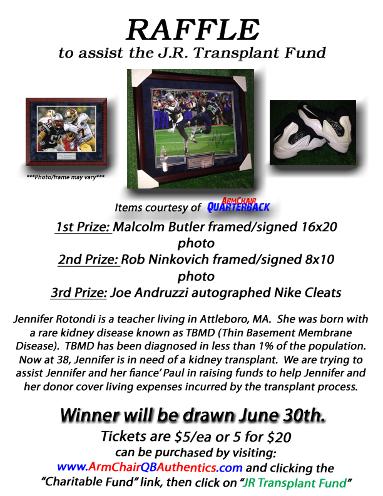 Jennifer Rotondi is a teacher that lives in Attleboro, MA. She was born with a very rare kidney disease known as TBMD (Thin Basement Membrane Disease) which is so rare that it has been diagnosed in less than 1% of the population. Jenn also has a secondary kidney disease known as Focal Glomerulosclerosis. The combination of these 2 diseases have destroyed both of her kidneys. Now at the young age of 38, Jenn is in need of a kidney transplant. As they look for possible living donors, they have an uphill battle in regards to the expenses needed. We are trying to help Jennifer's fiancé Paul raise money that will help both Jennifer and her donor as they go through the transplant process. Both Jennifer and her donor will need to cover living expenses such as food, mortgage payments, insurances, trips to Beth Isreal Hospital in Boston and many other bills that will continue to mount while they are out of work. Any little bit will help as we try to support Jennifer and Paul through this life altering event.
We will be running an online raffle to benefit the J.R. Transplant Fund beginning now and running through June 30th. There are 3 prizes available.
3rd Prize; Pair of Autographed Joe Andruzzi size 15 Nike cleats
2nd Prize; Framed/Autographed Rob Ninkovich 8x10 photo
1st Prize; Framed/Autographed Malcolm Butler 16x20 "Game Winning Interception" photo
Tickets are $5.00/ea or 5 tickets for $20.00
Tickets are available online by clicking the link below. Winner will be drawn on June 30th. Winners will be posted on this page as well as facebook.